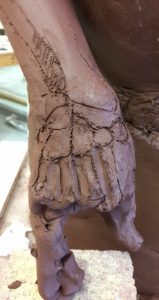 September 1st and 2nd, 2018
Schedule: 10am-5pm each day
Cost: $200 (includes firing, but not clay or shipping costs)
Location: The studio is located in the lovely Bee Tree valley, just east of Asheville NC.
This weekend workshop will focus on sculpting the hands and feet with anatomical accuracy. We will begin with the bones and work outward to define tendons, muscles and skin from observation of anatomy texts and everyone's favorite model, who is always there for you: your own hands and feet!
If you have any questions, feel free to get in touch! susannah.zucker@gmail.com
If you can't make the fall workshop, check out the Spring 2019 Hands and Feet Workshop!